CRAVINGS: sweet summer song
After a super rainy Summer last year, we've been blessed with quite some sunshine so far this year. As a Summer child, I couldn't be happier. Even though 35°C is pushing it, I would much rather be sweating than wearing sweaters during Summer. Inspired by lots of sunshine and tropical vibes, I leave you guys with today's cravings while I am off to catch the last bit of sun. Oh sweet Summer song!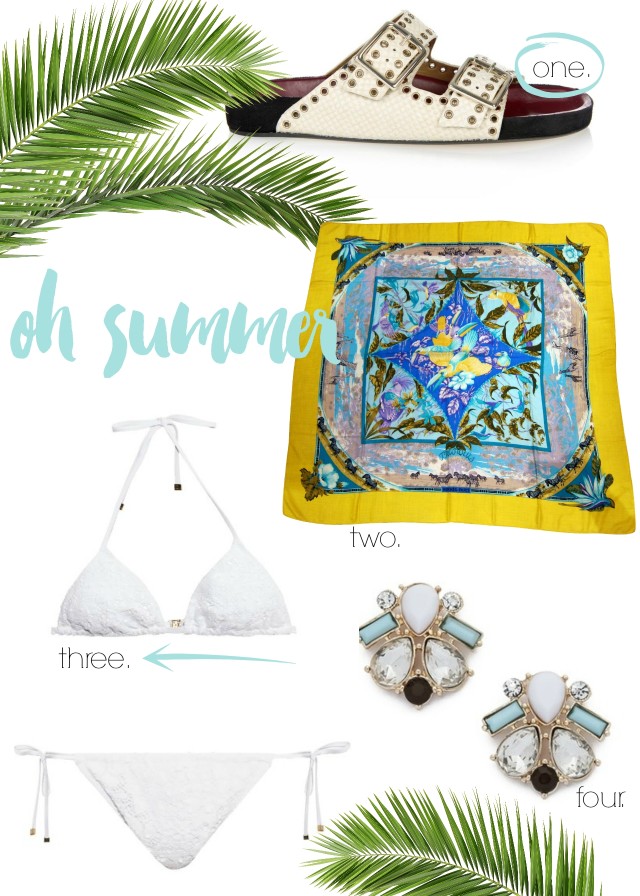 1.   This year, I've made it my mission to improve my Summer shoe wardrobe. After successfully purchasing a pair of light sandals in April and then my black Schutz sandals 2 weeks ago (also love these), all I need now are some nice slides. Last night, when I spotted this pair on sale I finally hit purchase. I have no idea if they'll look good on me, but thanks to free returns I thought I would give them a try.
2. After my major score on Vestiaire Collective recently, I've been browsing the site a lot more, keeping my eyes open for beautiful designer pieces. I think a carre by Hermes is such a timeless stapel and I would love a tropical print to tie to my bags during Summer or wear as a turban. This one is currently on my wishlist!
3. When it comes to white bathing suits, I am kind of torn. I love the look on others, but am not sure if my skin will ever be tan enough to wear such a light bikini.
4. For simple, summery outfits, I love the idea of adding a statement earring for a bit of sparkle and color. This pair reminds me of the pool and beach.