CRAVINGS: python styled 2 ways
As you guys know, I am a huge sucker for a good animal print! I adore anything leopard, like my coat, and I love the python of my Falabella bag, as well as the print on my sloan bag by Michael Kors (seen in Monday's outfit post). Last night I came across 2 gorgeous "python" bags on Girissima, which could both be styled in different ways. One is a major pop of color in a vibrant red, which I would love to pair with the stunning statement necklace. While the other is a more subtle brown, with a brass chain – would love to wear a delicate bracelet with it! Which of these combinations do you prefer? I think I am actually leaning towards the pop of color (even though I am usually not a huge fan of red!) because I am obsessing over that necklace, which works perfectly with the clutch!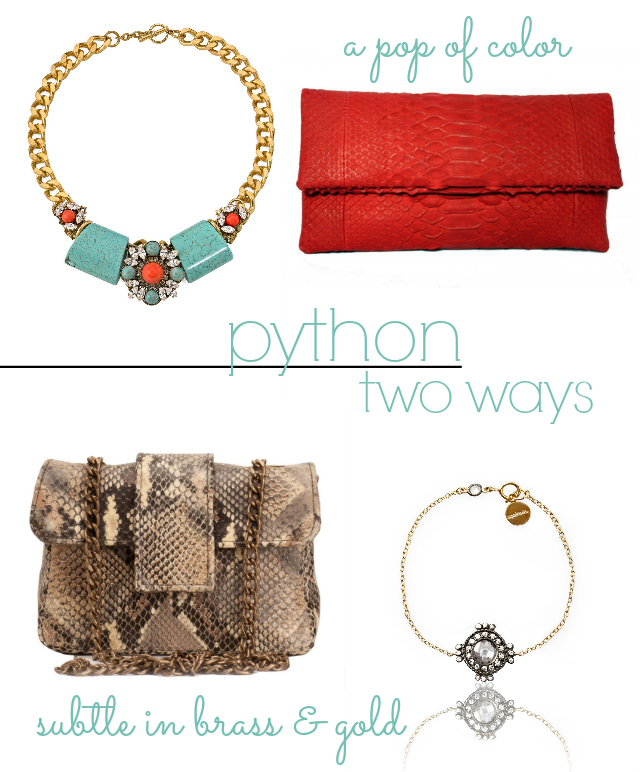 1. You guys know how much I appreciate a statement piece – and this necklace is absolute perfection in my books!
2. The red clutch works great with the necklace, but it also comes in a really pretty blue, which I love ♥
3. This python bag could be straight out of my closet, so "me" – so perfect!
4. While I am usually all about big jewelry, I also have a super delicate bracelet that I wear day & night (birthday gift from Mike). This one by Apodemia is similar and also super cute!
**in collaboration with Girissima.com