CRAVINGS: midseason steals
When it comes to sales, I am quite the expert at snagging a good deal. I've mentioned it a few times before, but some of my absolut favorite items in my closet were amazing steals at discounted prices (ie. my beloved Falabella at -40%). Obviously some basics might never go into sale, but the more special items are unique and are sometimes "left over" by the end of the season. Now, when it comes to sales, I feel that midseason discounts are the most fun, simply because you can shop items that you can actually still wear at the time for a really good price. GIRISSIMA.com is currently having their midseason sale with up to 70% off and there are a few items I've literally had my eye on all season, such as the gorgeous light blue peplum, fluffy coat and embellished sweater. These will all be perfect for winter, but as their already clearing their stock for new items to arrive they now only cost a fraction of the original price. Oh happy day, you've gotta love sales!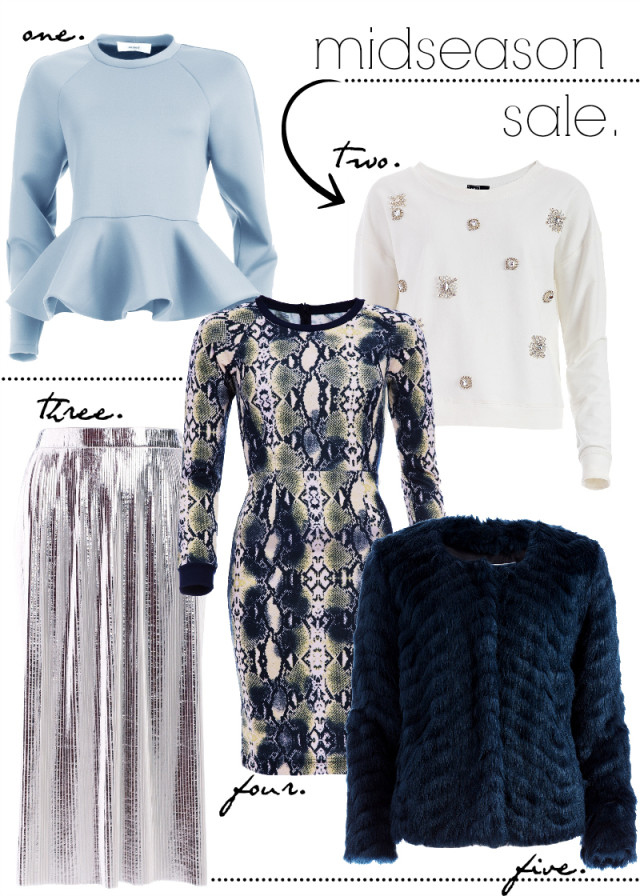 1. I love a good peplum because I have a fairly small waist and wider hips, so I love any cut that flatters that area and covers the hips. How pretty would this light blue peplum top be with a glitzy statement necklace? Kind of reminds me of an ice princess.
2. This Fall and Winter I am all about cozy sweaters, especially if they come with rhinestones and embellishment like this one!
3. Maxi and midi skirts aren't only for Summer, just imagine this silver beauty with a chunky knit and biker boots!
4. One thing that I definitely don't own enough of are dresses. And you guys know how much I love a good animal print, right?
5. Early this week I posted my new beige fluffy coat, and I feel that this dark blue version would also be amazing for Winter!
*in friendly collaboration with Girissima.com