BEAUTY TALK: springtime favorites
Although spring here in Vienna still isn't anywhere to be seen, I thought it would be fun to share a few products I am currently loving – especially for spring! I always love to see what other people like to use, so here are 5 products which are part of my daily routine at the moment: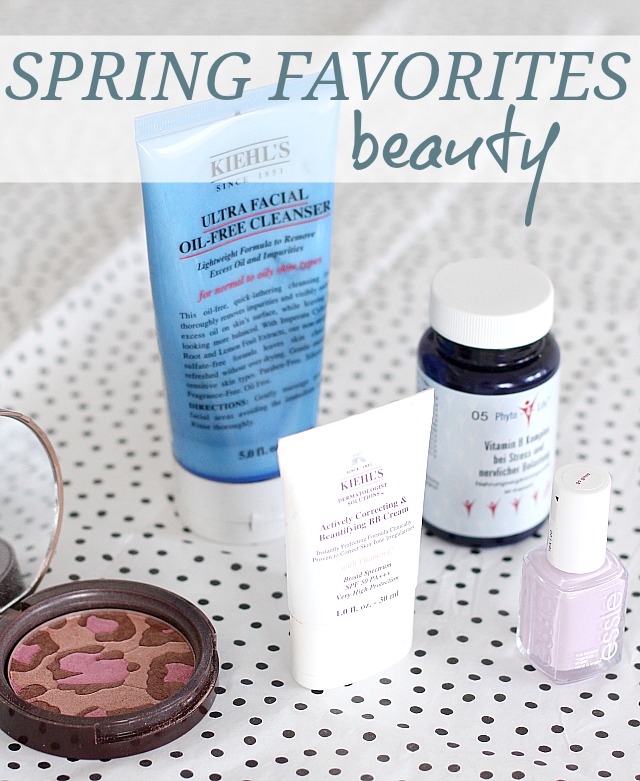 – In the morning, before applying my make-up, I only use water to wash my face. But at night I am currently using the "Ultra Facial Oil-Free Cleanser" by Kiehl's. It is part of the same series as THIS moisturizer and even though it is meant for rather oily skin I have found it to work REALLY well for my dry skin.
– A definite all-time favorite is my "pink leopard" bronzer by Too Faced. I use it year-round and love how it is the perfect mix between a bronzer and blush. Plus it has the prettiest shimmer!!
– About 3 weeks ago I received the new Kiehl's "Actively Correcting & Beautifying BB Cream" as a press sample and I have been using it daily since then. It comes in 3 different shades (I use the medium one, called "light") and provides just the right amount of coverage, while still allowing your skin to breathe! The only down-side: The smell is a bit too medical for my taste, but you get used to it quickly.
– On Monday I wrote about Essie's "Go Ginza" and I am loving it more every day (see the post HERE)! Today is day 6 of wearing it and I only have 2 tiny chips on the left hand – it definitely held up great. Plus, I've already gotten plenty of compliments on the color, such a sweet mix of a light pink and purple!
– And finally I wanted to tell you guys about Vitamin B Komplex supplements. I actually started taking these last October when I was suffering from a non-stop headache, also called cluster headaches. It is usually caused by various factors, including stress, too little sleep, tight muscles and more. I saw a few doctors and also took pretty strong muscle relaxers and pain killers, but nothing really got rid of the (subtle, yet constant) pain. Then I started looking for tips & tricks online and found a great forum where multiple people suggested Vitamin B. With nothing to lose I headed to the closest pharmacy and got those Vitamin B Komplex supplements. After a week of taking 2 vitamins daily the headache was gone … A few weeks ago, Kathi told me that she was so frustrated with a headache that simply wouldn't go away and that she constantly felt tired and de-motivated. I told her about my vitamins, and guess what – within a week the headache was gone and the energy is back! Now I know, it may be a coincidence – but since cluster headaches are common with about 15% of all adults (especially during spring and fall) I wanted to share my little story with you guys. Maybe it'll help some of you 🙂