BEAUTY TALK: new york beauty buys.
The great thing about New York? They have Sephora stores at every corner! The great thing about having a beauty obsessed best friend? You don't have to do any research on what to get – she's got you covered! Needless to say, Kathi and I stopped into Sephora during our short trip to NYC and brought back a little something. I didn't go crazy but made sure to only buy things I can't get in Vienna. Of course, online shopping is always an option but especially with concealers and other things, I feel like you just kind of have to try the product in person.
Like I said, I didn't bring home half the Sephora with me, because quite frankly I have my few favorites and rarely venture away from my typical beauty routine, but all 4 items that I bought I am 100% happy with. Even if I only bought some for the packaging… but that's another story.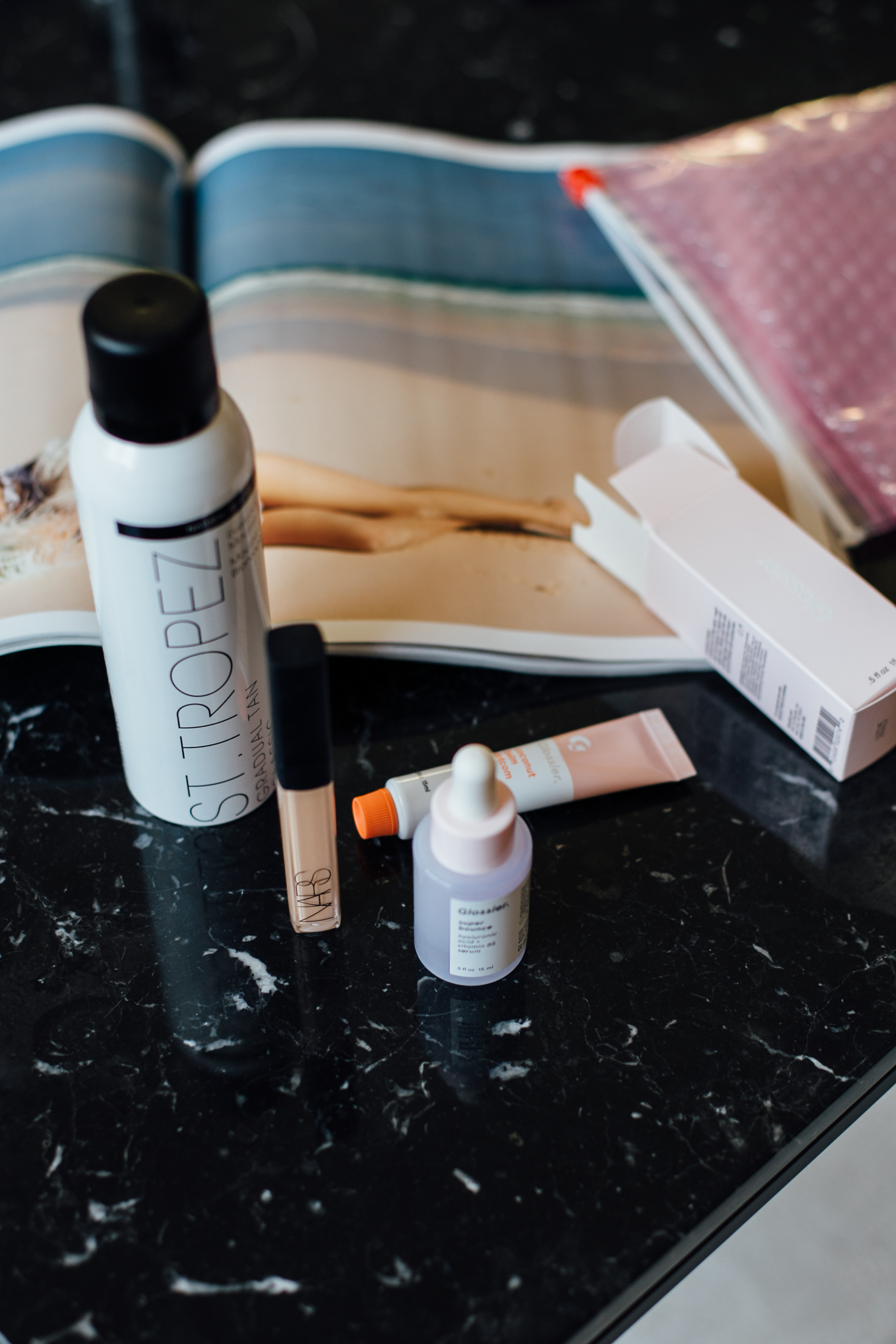 So, what did I get?
NARS "custard" concealer: As I learned from Kathi (and her extensive research on Youtube), this is THE concealer to have. Apparently most of the beauty gurus online swear by this, and after 2 weeks of use, I have to say I am 100% convinced! Definitely my favorite beauty buy from New York and in daily use. Also, the girl at the Sephora informed us that "custard" (which is the shade we both ended up getting) is by far the most bought color and seems to match most skin tones.
St. Tropez Everyday Gradual Tan (mousse): Ever since Kathi's dermatologist informed her that sun protection is by far the most important aspect in terms of anti-aging remedies, we have both been super careful about protecting our skin and using at least SPF 35 (or even 50) on a daily basis on our faces. Even though anti-aging is not as important on the body as it is for the face, I plan to keep my skin as healthy as possible. So we decided to give self-tanner a try. I am kind of torn about this product. The first time I used it, I was pretty shocked because I expected it to be something that you just apply daily after showering for a gradual tan (as the name implies). Turns out it is a full on self tanner and I had some major streaks on my wrists the next day. However, aside from the fact that you have to be very careful and thorough with the application, the "tan" itself is pretty natural and just gives you that healthy glow. The scent does remind you of those typical self-tanners but in a much more subtle way. I have been using it about 1x per week and like the results. Even though I just woke up to slightly streaky feet again today… still have to practise my application skills.
Glossier Balm Dotcom: This one is for the category of "the packaging made me do it". Formulated with natural emollients and antioxidants, the dense all-purpose formula of the salve has a waxy texture that will seal in moisture, but let's be honest – who cares about the content when you can have the prettiest-looking hand cream around? None-the-less, this balm seems to be the must-have by Glossier and now I can proudly say: Been there, done that!
Glossier Super Bounce: First things first, I have yet to try this purchase. We stopped by the Glossier showroom on our last morning and I have admit, the branding and whole look of the place got the better of me. I simply couldn't leave without getting something. And then I spotted the "Supers". A series of 3 different serums (?) that focus on different skin issues. Of course, I got the Super Bounce, which is for moisture and hydration. The second I read hyaluronic acid and vitamin B5 on the list of ingredients, I was sold. Obviously without doing any kind of research first. Back home, I googled a bit and found very mixed reviews about this. However, most of them stated that it was a neither nor product. It simply didn't do anything for their skin… Oh well. But that is also the reason I haven't given it a try yet. Currently I am loving my H.A. Intensifier by SkinCeuticals and the Bobbi Brown remedies (which actually work!), which is why I am not willing to switch to a product that may not work right now. But at least it looks cute in the bathroom. And who knows, maybe it'll work for my skin!