RECIPE: asian noodles with tofu (vegan)
One of the most frequently asked questions via Email and direct messages on Instagram & Co. is always about my diet and how I lost some weight in Fall. In November, I shared a bit of insight to my personal diet rules + my breakfast diary with you guys, but don't want to get into the whole topic too much. Weight is always super personal but more importantly individual. What worked for me may not work for others, and what works for others may not work for me. That's why it is important to get to know your body and listen to it!
For me personally, 3 filling and healthy meals with no snacks in between have proven to be super effective. Just like 20-30 grams of protein with every meal are essential (to me). With those things in mind, I try to listen to my personal cravings and build my meals around some basic rules (also mentioned in the breakfast diary).
On Monday, I had a major craving for some asian noodles with tofu and luckily my fridge was filled with everything I need to whip up a quick lunch. It turned out surprisingly delicious and so I thought I would share this healthy, homemade recipe with you guys. Lots of protein thanks to the tofu, fresh veggies and a good serving of carbs to keep you full until the next meal are all it takes to make me happy!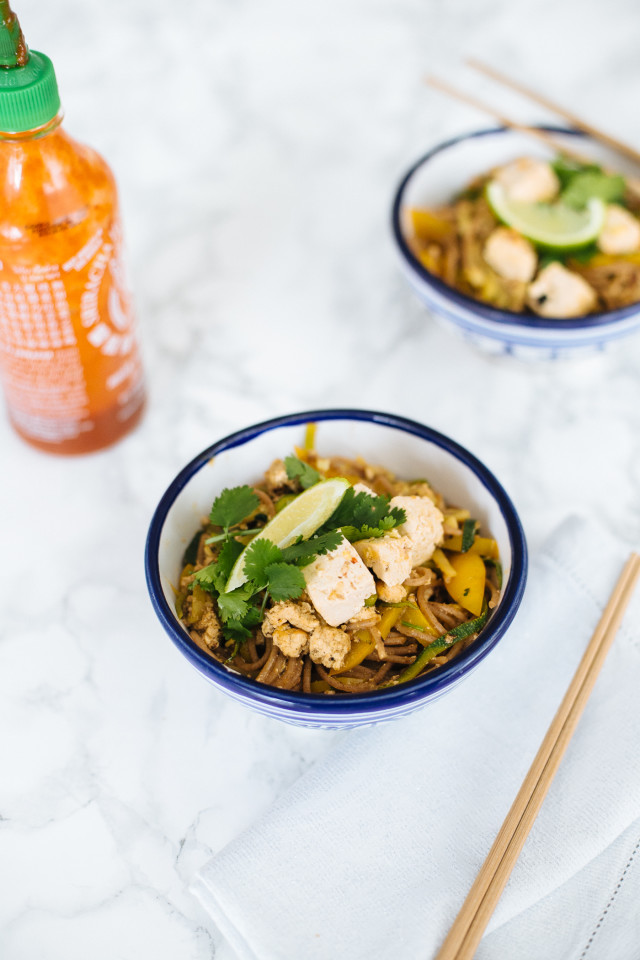 Asia Noodles With Tofu – Recipe:
1cm of finely chopped ginger root
1 garlic clove
1 tbsp coconut oil
1 lime
1-2 tbsp soy sauce (I used one of the packs you get with sushi)
200 gr of tofu (I used organic chili tofu)
1 bell pepper
1 zucchini
fresh cilantro
spicy sriracha sauche (optional)
50-80 gr of soba noodles or pasta of your choice
Start by bringing a pot of water to a boil for the noodles. The best option would be soba noodles, but whole grain pasta, rice noodles or others also work fine. In the meantime, heat up a pan with the coconut oil and sautée the garlic (minced) and chopped ginger for that Asian flavor we love! Add tofu and grill until golden brown. Next, add the bell pepper (thinly sliced) and zucchini. I used my spiralizer for the zucchini, but thin slices also work find. Deglaze with the soy sauce and fresh lime juice. Add fresh pepper if desired. Once the pasta is done, simply toss it in the pan with the rest of the stuff and mix well. Serve the asian noodles with tofu in small bowls with some fresh cilantro and lime or a bit of sriracha sauce for extra spice. Enjoy!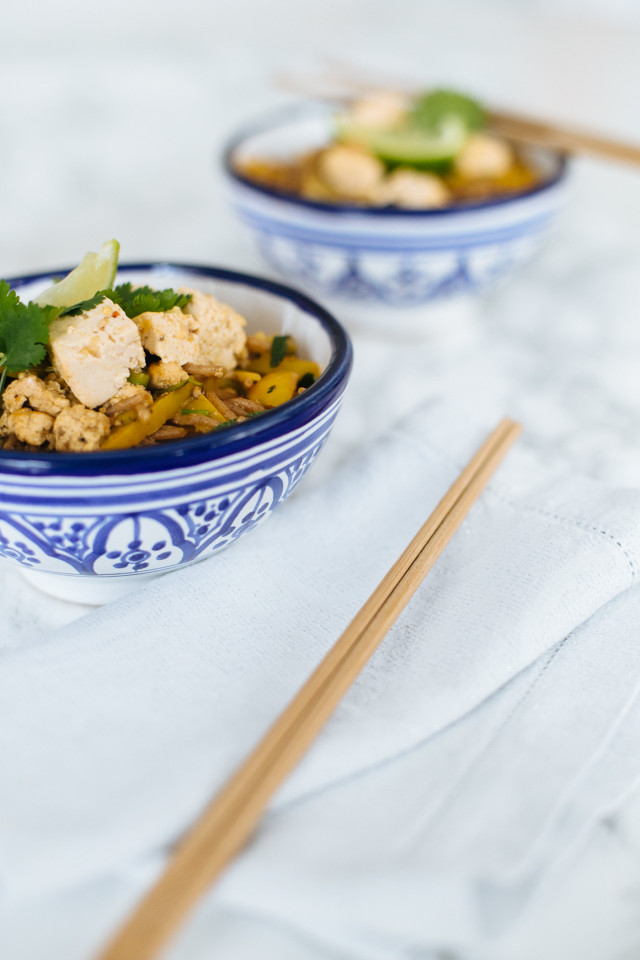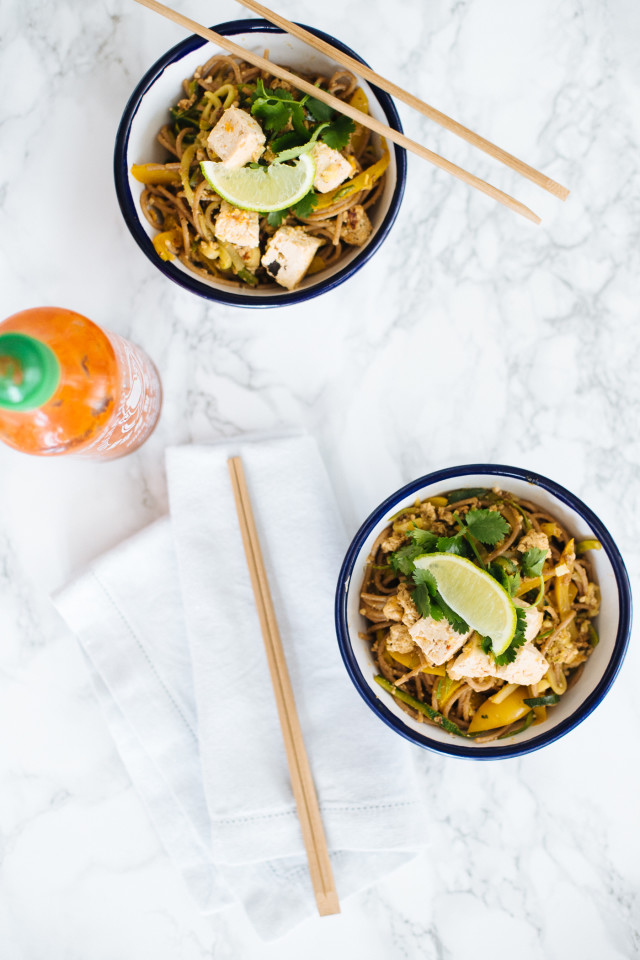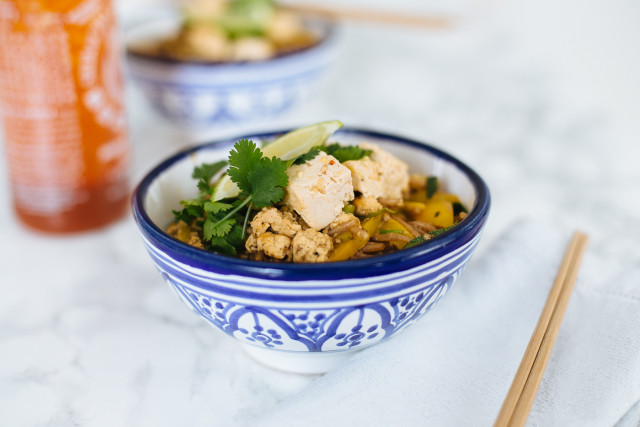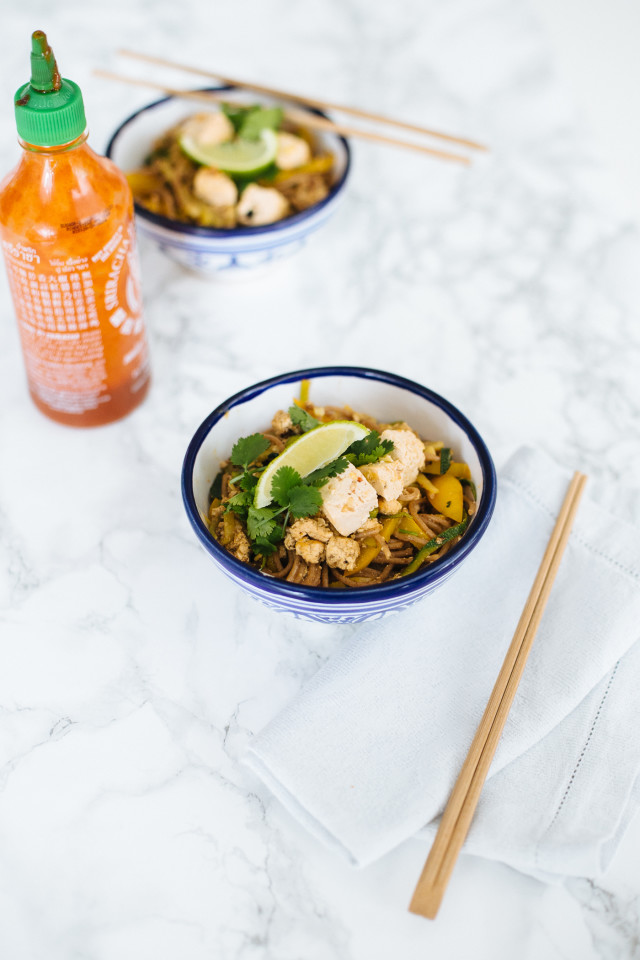 Want more healthy recipes? Then be sure to try my favorite chickpea salad with grapefruit & avocado!