BEAUTY TALK: summertime favorites
Since I am currently enjoying truly blissful temperatures of around 30°C day & night, I wanted to share my favorite summertime must-have from the beauty department today. The Maldives have a very tropical climate, with humidity reaching up to 80% right now and so my daily make-up has to be light and simple. Plus a high SPF is a definite must!! Looking back on the post of my springtime favorites, I noticed that 3 of the 5 items are the same. But I guess that is a good thing, because I feel like I have finally found those few products that I simply LOVE and feel like it is money well spent if I actually use the items daily!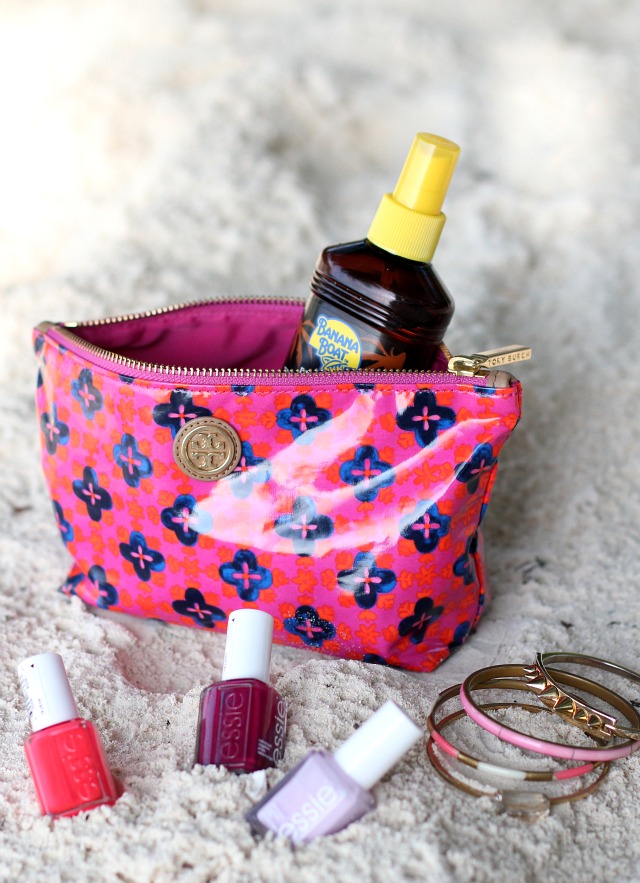 These two items basically make up my entire daily routine here on the island. Since my skin is super sensitive, I prefer not to have sunscreen in my face, but since my Kiehl's BB cream has SPF 50 I am good to go with just that. I am no believer of caking on make-up when on vacation (especially when most of the time is spent at the beach) but since I simply feel naked without mascara, I always apply a bit in the mornings before heading out for the day. My current favorite is Volume Million Excess by L'Oreal Paris.
Bahama Mama by Essie has definitely become my signature nail color. I always wear it on my toes and for just about every other manicure I catch myself reaching for it. Just like for my springtime favorites, I am still completely smitten with Go Ginza and I love it even more now that my skin is a bit tan. Camera is a neon red-orange with a matt effect, which also looks great with bronzed skin.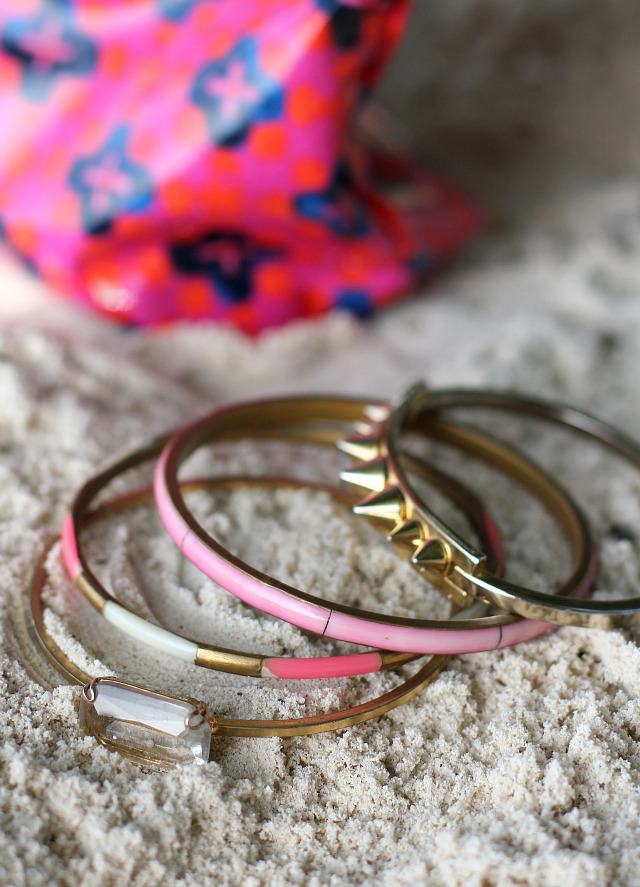 Thin, colorful bangles (Juicy Couture, Forever XXI & boutique in Milano) are the only jewelry I've been wearing these past few days. No need for big, heavy necklaces – but these bangles are a nice pop of color and have a "beachy" feel to them!
Around here, water is probably the biggest must (besides sunscreen). To stay moisturized I drink at least 2L of water each day. I love that the Kuramathi Island Resort always provides these bottles free of charge and restocks them daily with room service! I've generally made it my mission to drink more – since my skin is naturally dry and drinking more water should definitely help.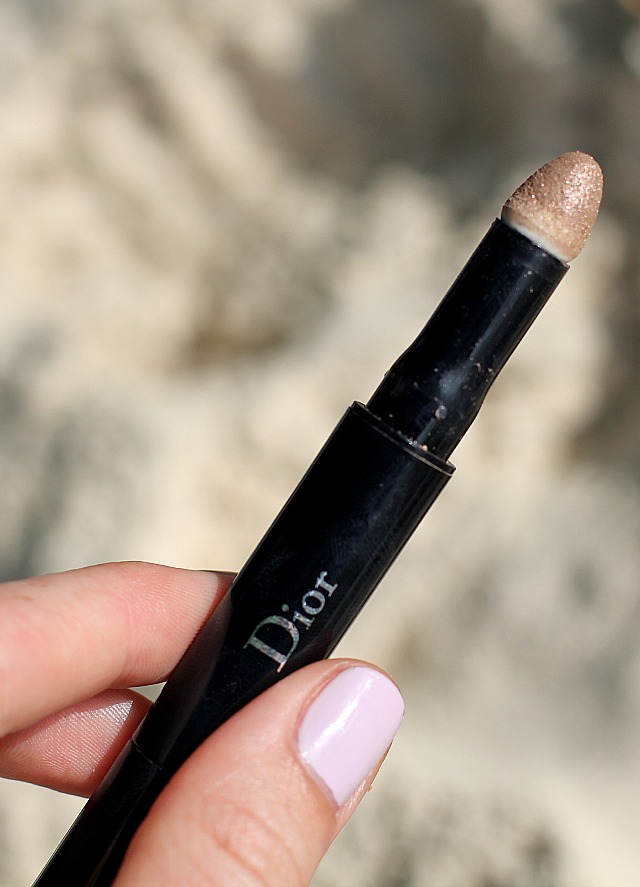 Dior's twin set 530 is my favorite eyeshadow at the moment. Just a hint of golden shimmer, without looking too done up. When we go out to dinner here on the island I like to apply a bit of this, a hint of MACs impassioned lipstick and a bit of my Too Faced Pink Leopard bronzer.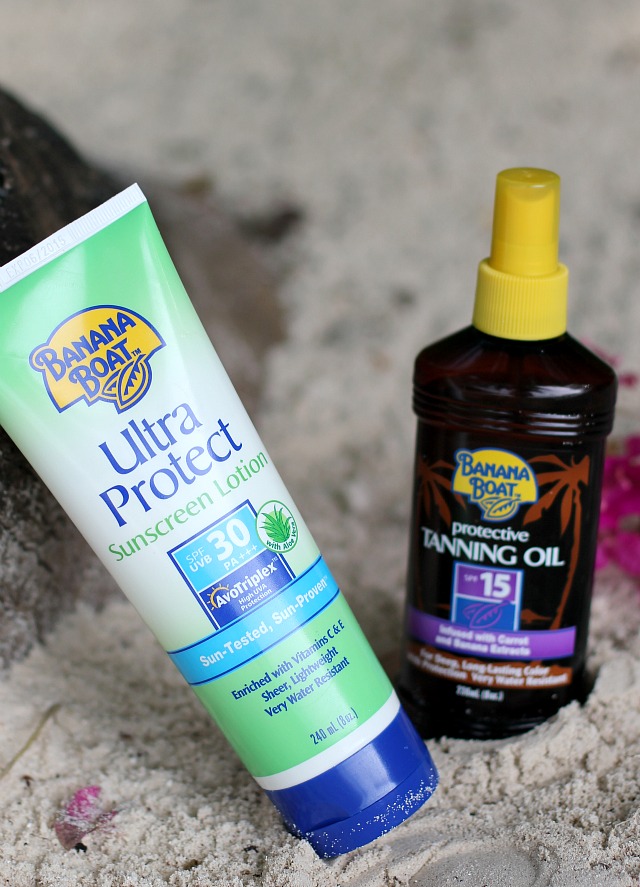 Being super close to the Equator, we always lather up with sunscreen first thing in the morning. I usually stick to Banana Boat's SPF 30, especially when going snorkeling. But even when you're just laying out the sun is so intense that you'll burn within minutes.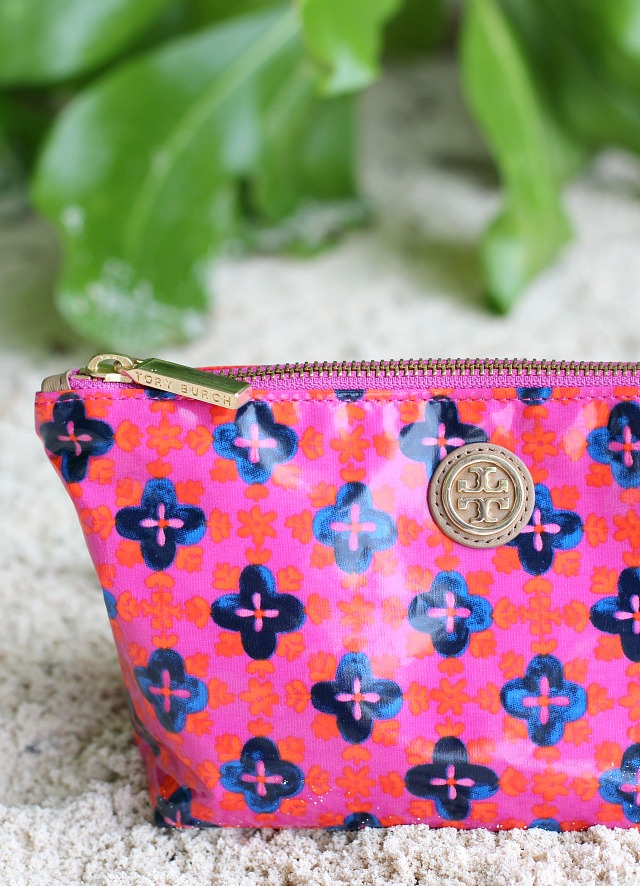 And finally, I keep all of my goodies in this super cute Tory Burch cosmetic case! I purchased it literally  just hours before getting on the plane to Dubai (Steffl Department Store in the 1st district currently carries a ton of cute Tory Burch stuff!!) and am absolutely obsessed with the bright colors and it has the perfect size!
**some items in this post were given to me free of charge – however all the opinions expressed are my own & I truly love all these products!!