RECIPE: the vegan quinoa burger.
In my world, a healthy diet is all about balance. Generally speaking, I try to eat lots of fruits and vegetables, stay away from sweets and white flour or sugar as much as possible and eat as unprocessed as possible. However, that doesn't mean that I don't love an occasional burger, big bowl of pasta or ice cream. When our Sunday nights are all about that bolognese, I kick-off my Monday with a green smoothie and healthy oatmeal. But what if you could add a slightly healthier twist to one of those cheat meals? Sounds like a good deal, right? It is! Earlier this week, I had my one vegan day before heading to Dallas. I had just picked up a bag of Neni's Quinoa-Trio at Interspar, which is so easy to cook and an amazing vegan base for any meal (I'm thinking lunch bowls, morning quinoa oatmeal or salads), and I decided to finally give vegan burgers a try. I actually ordered a vegan burger for lunch at the office a while, and was surprised by how much I liked it. Since homemade is always the better option, I started researching recipes and found this one, which I adapted to include quinoa instead of rice and a few other things. I mean, who has time to toast shredded walnuts these days? Long story short: The vegan quinoa burger turned out absolutely delicious and since I am not one to keep the good stuff to myself, here it is for you guys – just in time to kick-off the weekend!
What you'll need: (for about 4 patties)
100gr. quinoa (cooked)
1 can kidney beans (ca. 240gr, mashed)
1/2 onion (sauteed) + bit of olive oil
spices: paprika, chilli, salt, pepper + brown sugar, 1 tsp each
100gr. breadcrumbs
2 tbsp vegan BBQ sauce
Start out by cooking the quinoa according to the instructions on the package. Mine took about 20 minutes. In the meantime, finely dice half an onion and sautee in a pan with a bit of olive oil until slightly golden brown. Then rinse the beans, pat dry and mash with a fork. Once the quinoa is cooked, combine all the ingredients with the spices and BBQ sauce in a bowl. Usually BBQ sauce should be vegan, just make sure it doesn't include any honey. Kneed all the ingredients until a batter is formed. If it is too sticky, add more breadcrumbs, if it is too dry, add more BBQ sauce. Then, use your hands to form about 4-5 patties, depending on how big/small you want them. Grill the patties about 3-4 minutes per side in a pan. To stack the burgers, use ingredients as you usually would. I love mine with lettuce, tomatoes, red onion and avocado, aswell as some ketchup and dijon mustard. Enjoy!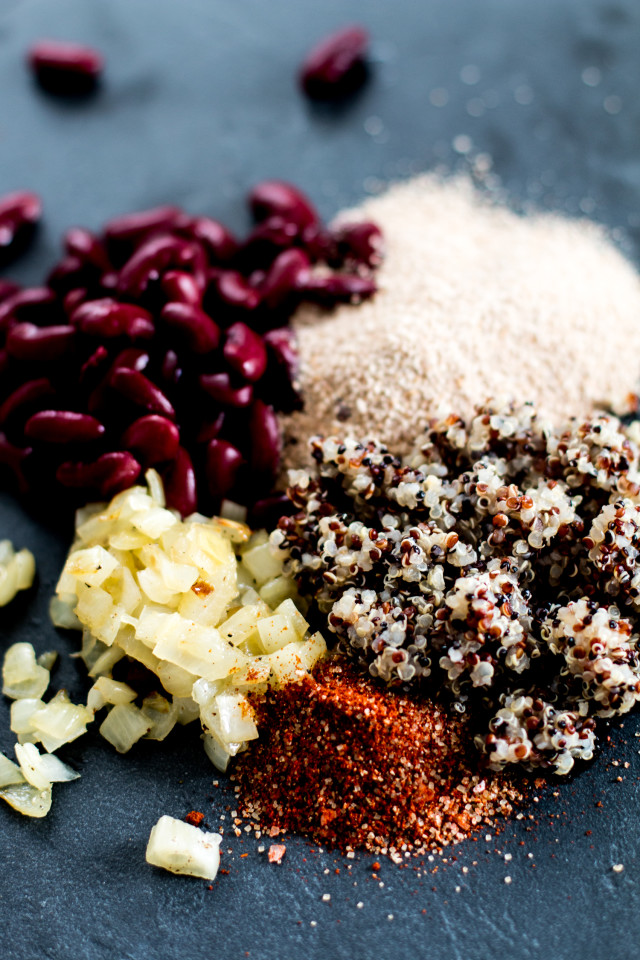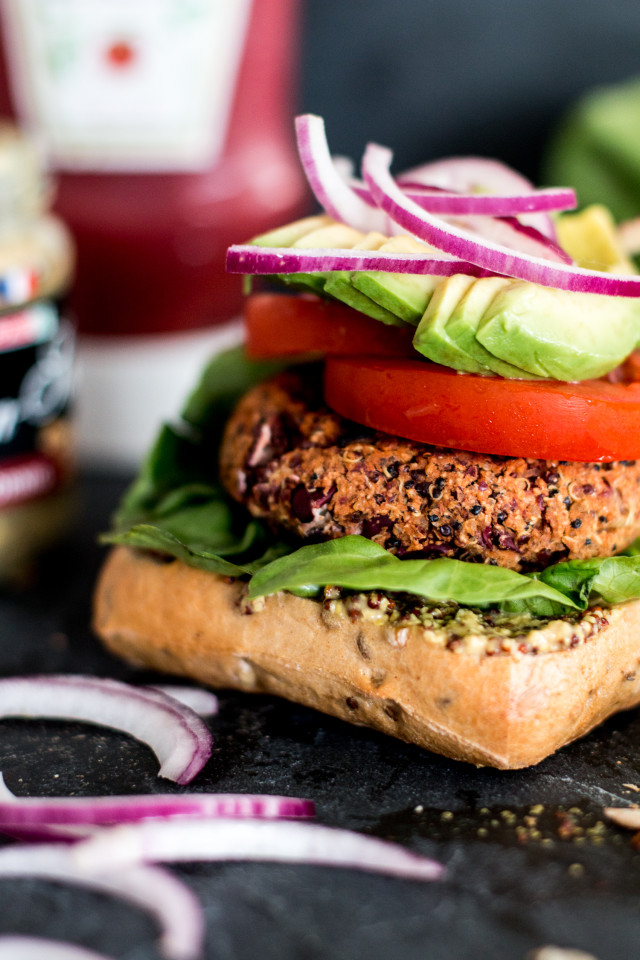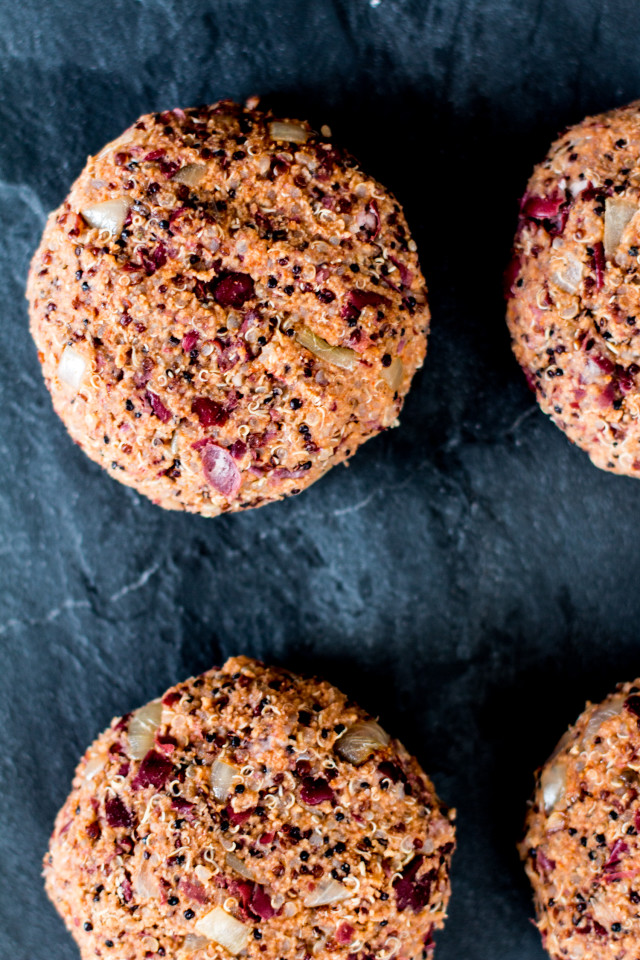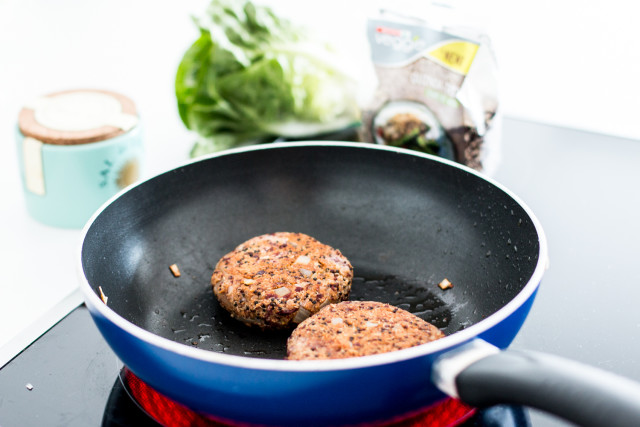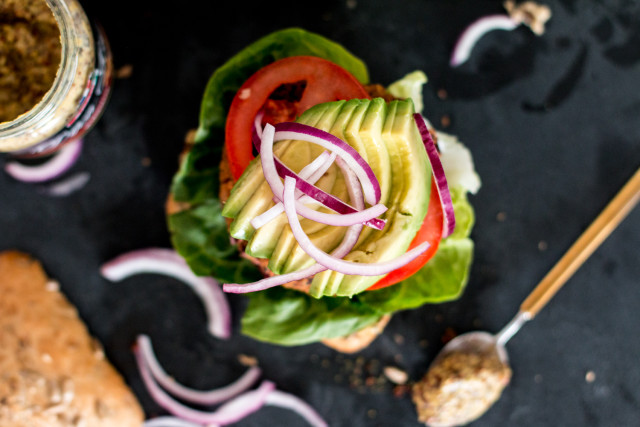 *in yummy collaboration with Interspar