RECIPE: spicy pumpkin & carrot soup
Last week, a basket full of pumpkins, along with the new Braun Multiquick 7 immersion blender
 arrived at my door. While I was busy painting other pumpkins over the weekend, I finally got around to making a spicy pumpkin & carrot soup last night. With soups, salads and sandwiches, I usually don't really follow a recipe, but rather work with whatever the fridge has to offer. But, since this one turned out pretty good, I decided to jot down the recipe and keep it on hand for future reference.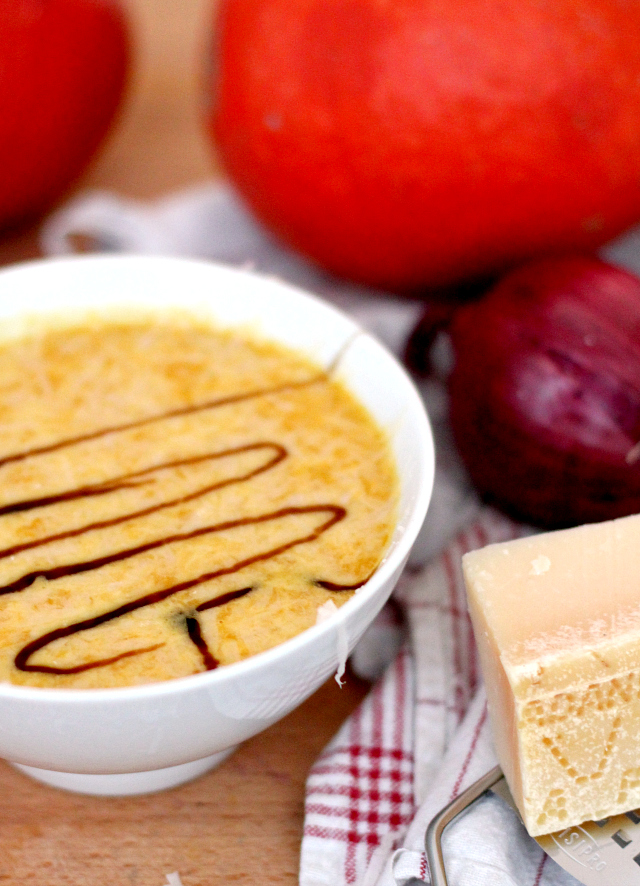 What you'll need:
– coconut fat (or olive oil)
– 1 red onion
– 1 small/medium sized pumpkin
– 2 or 3 carrots
– ginger
– 1 or 2 garlic cloves
– 1 tsp. sambal oelek chili paste
– 800 ml chicken or vegetable broth
– 100 ml heavy cream (optional)
– salt & pepper to taste
– parmesan cheese (optional)
In a large pot, melt some coconut fat on medium to high heat – in the meantime, chop your onions and throw them into the pot to brown. Next dice the pumpkin and cut the carrot into roughly 1cm piece. Toss both into the pot and stir occasionally to lightly brown the veggies. Then, slice some ginger and press the garlic, add both to the pot. Once the pumpkin, carrots and onions are lightly browned, add the sambal oelek, stir well and then deglaze with broth. Let mixture simmer for a good 20 minutes, stirring every once in a while. When the carrots and pumpkin are "cooked" (meaning when they're soft), use a mixer or immersion blender to make a smooth mixture. You can add some heavy cream for a creamier soup, or if you need to adjust the spiciness a bit. When you're ready to serve the soup, top with some freshly grated parmesan cheese or roasted pumpkin seeds. Enjoy!