RECIPE: creamy avocado pasta (vegan)
You know how they say you should eat the colors of the rainbow? Well, today's recipe will get you there in no time. A super satisfying pasta dish that doesn't only curb those carb cravings, but comes with tons (!!) of vegetables, healthy fats, fresh herbs and other good stuff to keep you full for a while and help boost the immune system. Plus, the creamy avocado pasta is 100% vegan and takes no more than 20 minutes to make. Any more questions?
I have to be honest though, I can't take all (read: no) credit for this delicious and healthy recipe. It was one of those videos I spotted on Facebook a while back. Usually the recipes I see on social media inspire me to try something new, but by the time I make it to the grocery store I can't find said video anymore … This time I actually went as far as to save the video right away, and today at the grocery store I watched it while piling the necessary ingredients into my cart. I kind of had a feeling I was going to love this creamy avocado pasta just by looking at the produce in my cart, but the result was even more amazing than anticipated. So in the spur of the moment I decided to snap a few pictures of the result and share my slightly adapted recipe with you guys. Honestly, you need to try this asap! So good!
What you'll need for the creamy avocado pasta:
1 ripe avocado
1 tbsp linseed oil
Himalayan salt
fresh parsley or cilantro
1 clove of garlic
1 spring onion
juice of 1 small lemon
pepper
1 zucchini
cherry tomatoes and/or mini peppers
80 gr. of whole grain spelt pasta
Start by bring a pot full of water to boil. Toss all of the ingredients except for the zucchini, tomatoes/peppers and spelt pasta into a blender to make the creamy avocado pesto. Once the water is boiling, cook the spelt pasta for 8-10 minutes, according to the cooking instructions & prep the zucchini noodles with a spiralizer (read about mine + recipe here). Heat a pan with a bit of olive oil and grill the tomatoes/mini peppers until brown. Set aside. In the same pan grill the zucchini pasta for 1-2 minutes. Then add the cooked spelt pasta. Toss with the avocado pesto & serve topped with grilled tomatoes, peppers and fresh arugula (optional).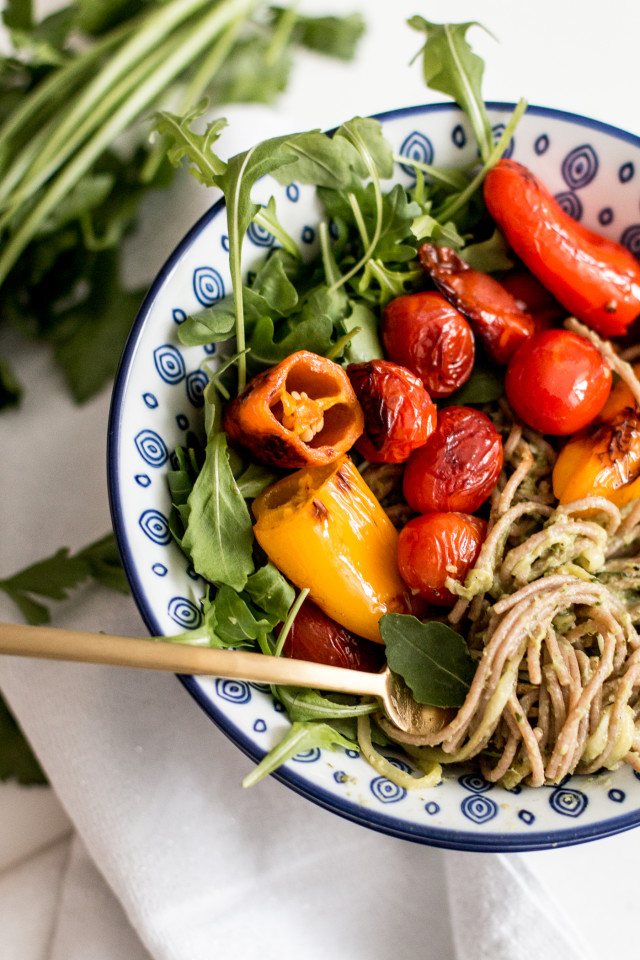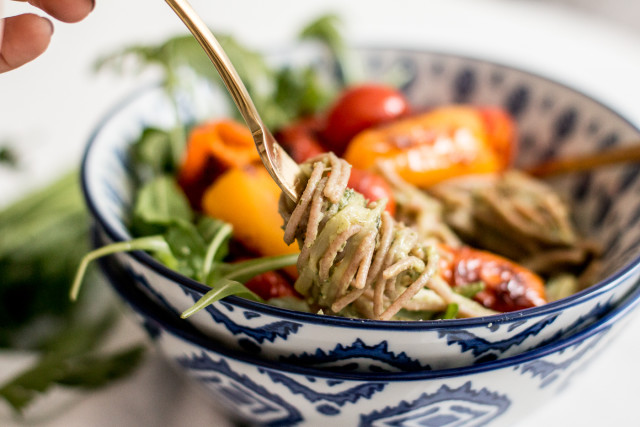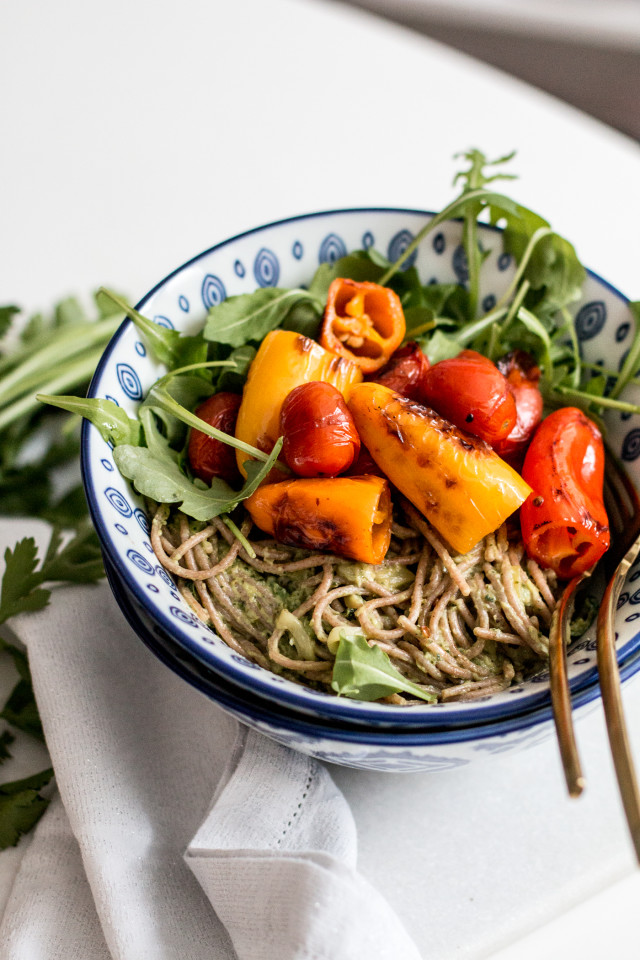 Good to know: Spelt is an ancient, nutty-flavored grain that's remarkably high in both fiber and protein. According to some sources, one plateful of whole-grain spelt pasta provides 50 percent of the daily recommended protein requirement for women. I use the Alnatura kind, which has 13 gr of protein per 100 gr, meaning about 10 gr for my 80 gr portion.
[thefeedproducts style='four']