PERSONAL: sisters.
"Sisters function as safety nets in a chaotic world simply by being there for each other."
Most of you have probably seen bits and pieces of my sister Lotta. Either here on the blog, on Snapchat, Instagram or when we hang out together. We have an incredibly special relationship, which I know is something that not everyone gets to have and I treasure a lot! Especially because our sisterhood has developed so much in recent years. We are almost 5 years apart, which wasn't always the easiest growing up. I still remember how my brother and I used to team-up when we were younger and have always had the same group of friends. Not the same with my sister, obviously, since a 16-year old usually doesn't hang out with a group of 11-year old girls. Now that we're both adults, this has changed completely. Nothing makes me happier than to have our weekly girls nights with ages ranging from 22 to 31 (I won't say who is 31 because she'll shoot me). I love the fact that my best friends are invited to my sister's birthday parties or that my boyfriend chooses to spend his free-time with my siblings when I am out of town. The older I get, the less 5 years seem to be and my sister is exactly what the quote states: my safety net in a chaotic world. And my world definitely is chaotic. In honor of the new comedy "Sisters" which hit the movie theaters in Austria two days ago, I decided to pay a little tribute to my own sister by sharing some of the things that I love most about her and our special moments!
One of my favorite parts of the week is our Sunday Tradition. While my sister usually is like a best friend, on Sunday nights it feels like she's my own child. I love the fact that she comes over and spends the evening with us eating pasta and watching endless funny fail videos on Youtube.
To me, Lotta is one of the most beautiful women I know and I am so happy that she has always listened to me (at least that's what I tell myself) and has kept her gorgeous natural red hair. While I have photos of myself with a fake tan and black hair to look back on, she's always had the most gorgeous locks and fair skin. But I guess I am the older one, so I made the mistakes for her to not make.
Nothing beats coming home from a trip and having her wait at the airport for me. No matter what time of the day, she's always the first to offer to come and get me, even after I insist on taking a cab 5 times. And in all honesty, sitting next to her after being away from home is so much better than sitting in the back of a cab!
Lotta has the best work-ethic of any 22 year old I have ever come across. She's so ontop of her stuff and I can't wait for her to graduate from college to kick-off her career. It makes me super proud that she is currently working at HR department of Peek & Cloppenburg, which used to be my employer right after college. Typical, right?
Lastly, she is the one that all of us have to thank for 10 incredible years with our beloved pup Tazio. When she was 10 years old, she dragged my mom to see so many puppies and even named them ("Cupid" was my favorite), so my mom really didn't have any other choice than to eventually give in. I'll never forget the ultimatum she gave my parents of either getting us a pet (hamster at the time) or making another baby.
There are certain moments in life, where you can have endless best friends or people by your side, but nothing beats the connection you can have with your sister. I wish everyone could have a little Lotta like I do!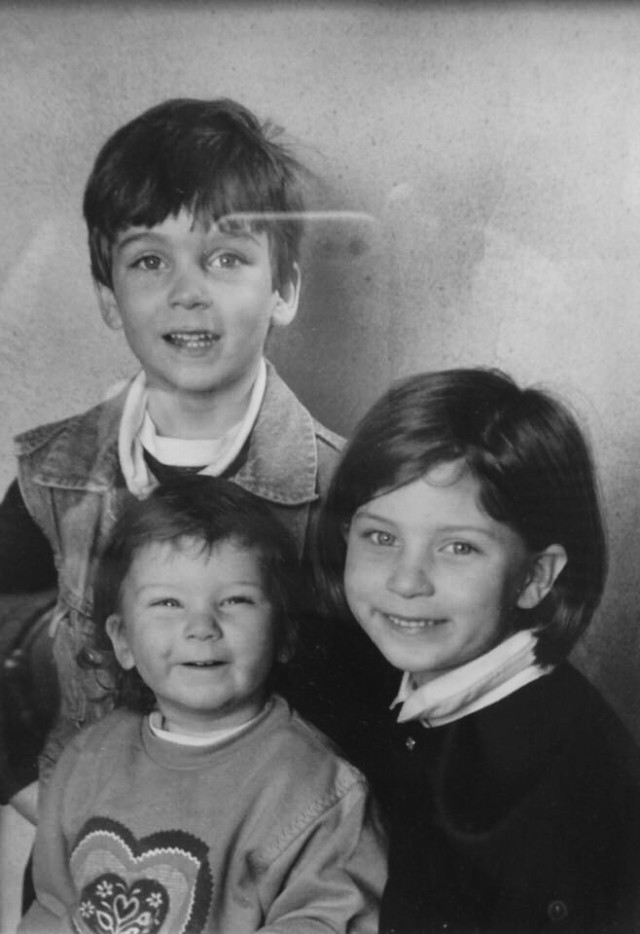 *in friendly collaboration with Universal Pictures