CRAVINGS: sale dreams
I don't know about you guys, but to me, shopping is twice as fun when you know you scored a good deal. That's why every year I get super excited about the Net-A-Porter SALE. I love shopping at NAP, but most items are simply death for my bank account. That's why their sale literally makes dreams come true. I scored my Stella McCartney Falabella bag at -40% last year, and also found a stunning Alexander McQueen scarf for half the original price. This year, my spending limit was super restricted as I am trying to be good with money at the moment, but none-the-less 2 beautiful new items will soon be mine. The pieces below were all seriously crave-worthy, but only the J.Crew espadrilles and gorgeous silk (sleeping) shorts made their way into my shopping cart. Did you guys score anything at the sales this year?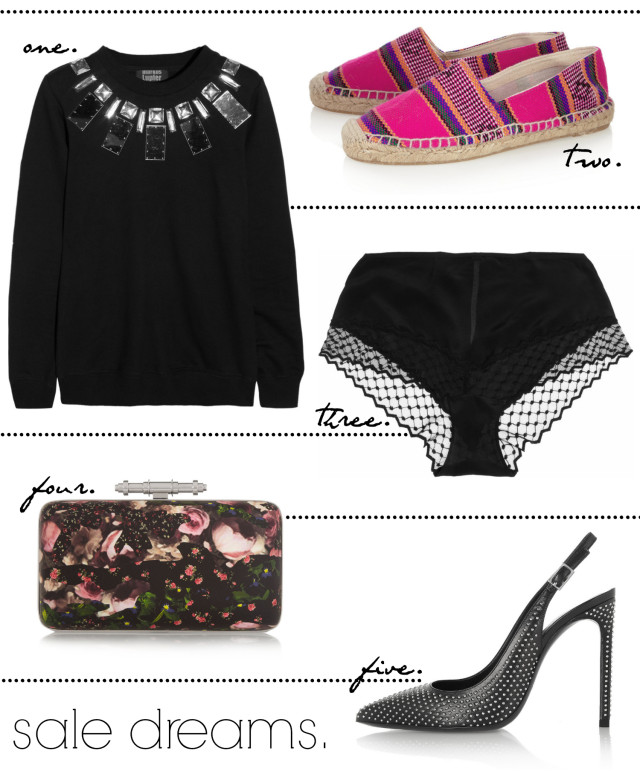 1. Even though I don't really want to think about Fall or Winter yet, this sweater would be perfect with a pair of skinny jeans and biker boots.
2. I've been on the waiting list for the Chanel espadrilles for months now – without any luck. So if Chanel doesn't want my money, I'll go with a bit of patterned J.Crew, which will be perfect for summer.
3. Last Summer I bought a pair of silk Stella McCartney shorts, this year this beautiful pair in black was purchased. Can't wait for them to arrive!
4. I've been lusting the floral pattern by Givenchy all season and simply LOVE this clutch. Unfortunately my bank account says no!
5. I bought my first pair of Saint Laurent heels earlier this year and these are absolute perfection!